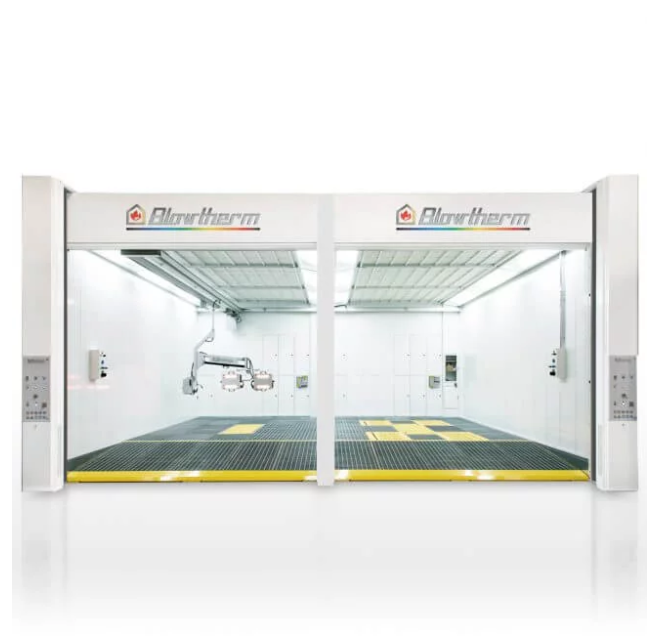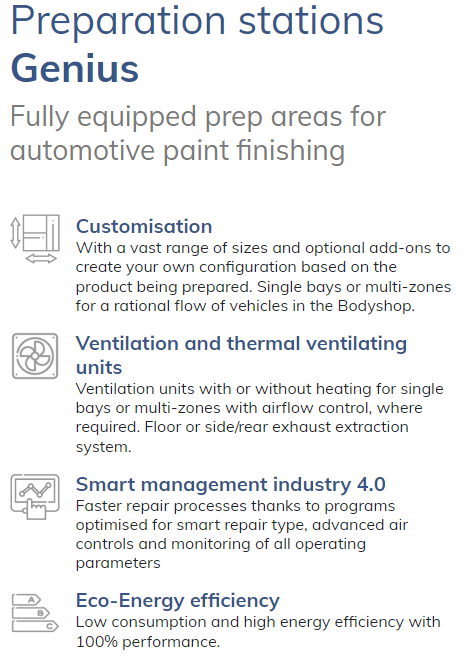 Take full advantage of the flexibility and energy efficiency provided by Blowtherm Genius Preparation Bays
with incredible expansion possibilities.


Manage even the most challenging workflows with ease, thanks to the available components and variety of sizes. Well-equipped and furnished walls, accelerated curing with high-tech infrared and UV lamps, ergonomic lifts, manual or motorized roll-up curtains with smart control, integrated exhaust extraction systems, secure electronic and PLC controls with user friendly interfaces are just some of the choices.


For a perfect combination of production requirements, workers safety and low environmental impact. Also for Spot- and Smart Repair
according to the national work and safety regulations.


Fully customized. Secure. Reliable and scalable over a long life cycle.

Plenum
Wide filtering surface for optimal air distribution
Ultra Air System™
LED Blowlight™
With/without insulation
Automation and process control:
With integrated electronic control panel
Blowtherm PLC With 5.7" or 10.1" industrial touchscreen
Air diffusion with bay partitioning and airflow volume controls
Safety relays and controls
Smart diagnostics, reporting, remote support
Blowtherm Digital Solutions
Exhaust extraction system
Floor system for laminar vertical airflow
Side, or rear exhaust air extraction
Structures, layouts and sideload finishing system
Rear or side wall panels
Windows or full glass wall panels
Manual or motorized curtains with smart controls
Levelling accessories between booths or other preparation bays
Fixed or pneumatic ramp for front access
Blowtherm Lean Car Mover™:rail tracks and dolly carts for increased productivity
Ventilating units
With or without heating
Gas/oil-fired burners, hot water battery module, electric resistance module
Heat recovery unit, also without by-pass, up to 70% energy savings
Modules for perfect integration in entire work systems
IR/UV paint curing lamps and rail system
Mobile and central dust extraction systems
Well-equipped walls with accessories, cabinets, functional switchboards
Integrated hydraulic under body car lift system
OEM installation kits for Herkules/Hedson car lifts