Spray booths and pai
nt systems
Blowtherm is a leading manufacturer of paint booths and finishing equipment for the automotive and industrial sectors. Blowtherm's high-quality systems are installed worldwide, full of new technology and smart controls while guaranteeing quality and safety. With an advanced know-how of the painting and finishing processes, the management of well-orchestrated projects along with an efficient local and remote support service are what set the company apart. Innovative, customised layouts allow customers to optimise their daily operations and achieve excellent results, profitability and performance.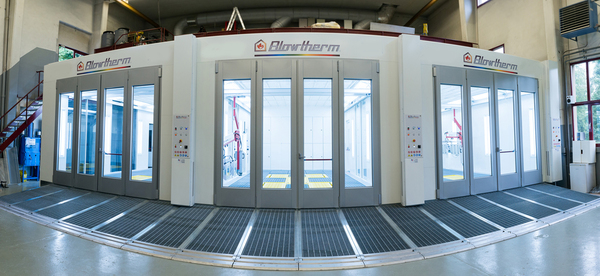 Eco-friendly: smart technology to cut costs while respecting the environment
What we do today paves the way for tomorrow. By limiting and optimising energy consumption, we can contribute towards safeguarding the environment while ensuring tangible savings.
Which is why Blowtherm constantly makes significant investments in high-performance, eco-efficient technologies. It may be specific components and features implemented in the overall system which provide measurable benefits and results. It's Blowtherm's "blue & green" heating technology, related smart controls and how they are interconnected. Our "eco-friendly" technology combines top-class performance, energy savings and low maintenance. The possibility of predictive maintenance from local or even remote systems helps our customers ensure their systems are always up and running.
Blowtherm's goal is to develop products and solutions to optimise the total cost of ownership. Providing sustainable benefits in the long-term to cut costs, with reliable, ready-to-use, certified technology.

Contact us today for any enquiries about Blowtherm spray booths and other products!