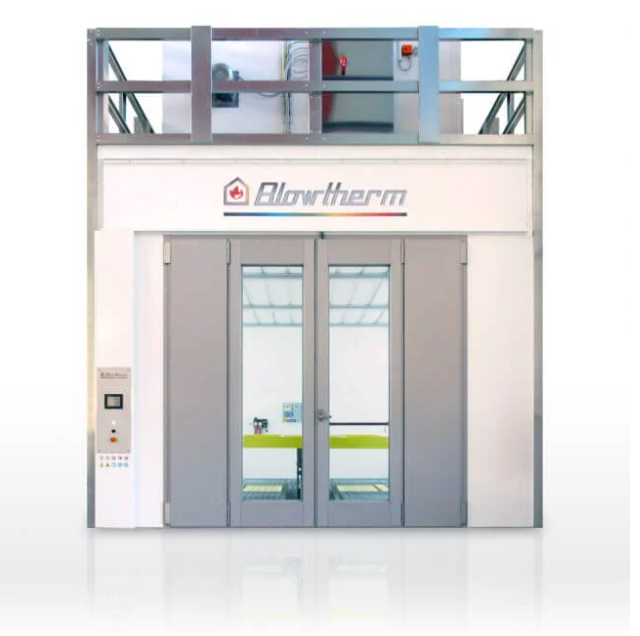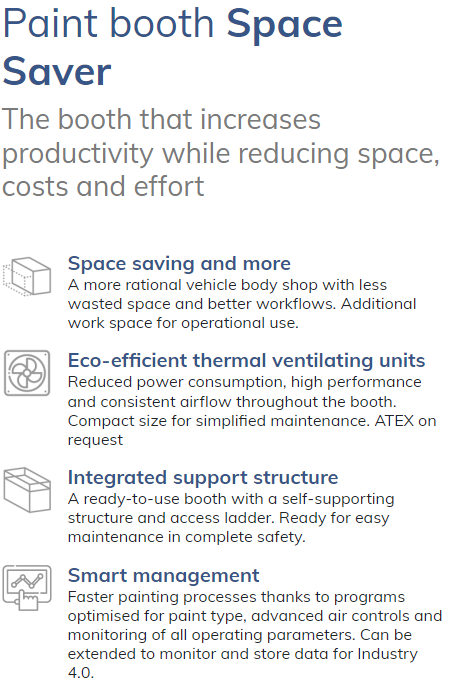 The Space Saver booth has been designed to streamline customer processes. To free up productive space.


Thanks to the positioning of the thermal ventilating unit above the booth instead of to the side or rear as in traditional booths, we have created a booth that saves space in the vehicle body work shop and to optimize your workflow. The innovative Blowpower™ system speeds up finishing processes and cuts down on energy consumptions.
Blowtherm Innovation, Quality and Safety.

Support structure for thermal ventilating unit created with floor stands and beam structures inside the plenum. With access ladder and railings for safety during maintenance operations.
Direct fired or forced draught burner
5.7" or 10.1" PLC industrial grade touchscreen control panel
Heat recovery unit
Specific programs for water-borne paints
Blowlight LED lighting
Fully windowed four-wing vehicle entry door
Plenum insulation
Compliance: EN 16985 and multiple international/national spray booth standards and regulatory codes.
Optional add-ons
Ultra Air Speed™ ventilation system
Front or side roll-up entrance door
Integrated pneumatic ramp
Integrated hydraulic under body lift system
Special safety systems
Rear or side wall exhaust extraction
Multi-level filter system based on the paint used (paint-stop, synthetic, paper and active carbon)
Heating system with electric heating modules
Air cooling for total control of ambient conditions in the booth
Special installations with conveyor
Windows in horizontal wall panels
Storage box with access inside the booth