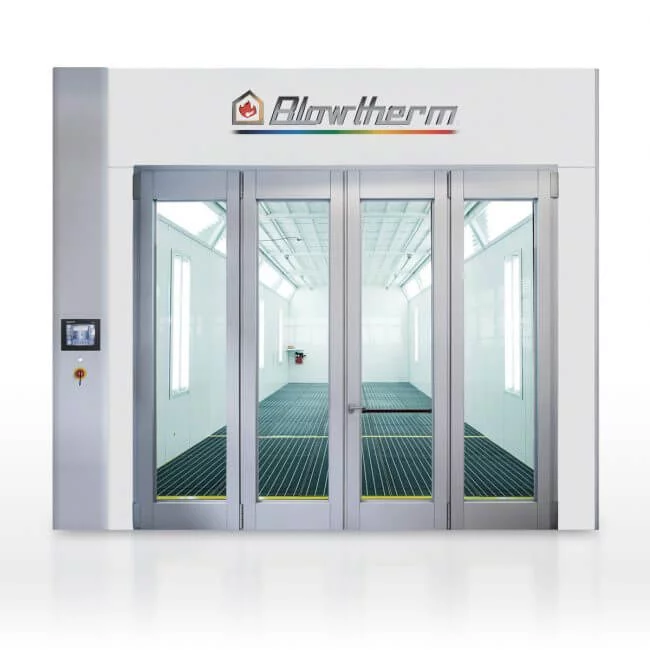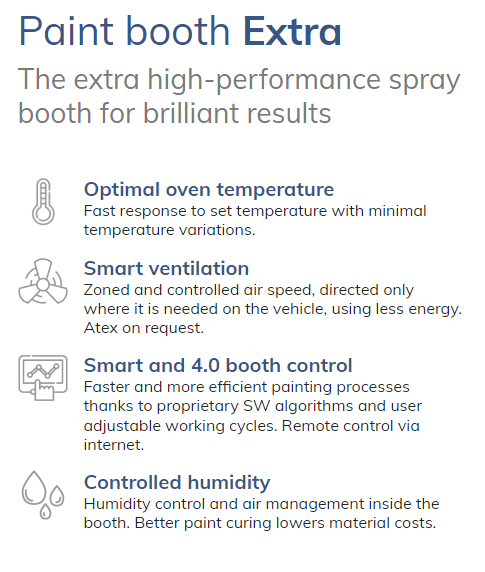 An impeccable job requires a high-performance and highly flexible paint booth. The Blowtherm Extra
is the most complete paint booth on the market, packed with technological solutions. A central element for all automotive and industrial paint applications.

The innovative Blowpowerm™ system components allow the finishing processes to be sped up, thus saving energy
and improving the quality of the air. The intelligent combination and digital integration with Industry 4.0 connectivity lead to the best work results and increased environmental friendliness.

You work in complete safety inside an innovative, versatile and highly efficient spray paint booth.
Modulating direct fired gas burner or indirect gas/oil burner
Industrial PLC touchscreen control panel (5.7″ or 10.1″)
Heat recovery unit
Speedcure™ and water-borne paint programms
Blowlight™ LED lighting
Fully windowed four-wing vehicle entry door
Compliance EN 16985 and multiple international/national spray booth standards and regulatory codes.
Optional add-ons:
Automatic front or side roll-up entrance door
Full glass wall panels
Storage box
inside the booth
Integrated pneumatic ramp
Integrated hydraulic under body lift system
Blowtherm Lean Car Mover™
Fire damper, Atex components
Top-level safety relay
Rear or side wall exhaust extraction
Multi-level filter system based on the paint used (paint-stop, synthetic, paper, active carbon)
Thermal ventilating unit pre-assembled and/or mounted on top of the spray booth
Heating system with electric or water heating elements
Adiabatic or isothermal humidification
Air cooling for total control of process conditions in the booth
Ultra Air Speed™ ventilation system (manual, remote control, automatic laser control)
Accelerated Airflow System in box corner
Special installations with conveyor
Blowtherm Process Manager 4.0(BPM), Blowtherm Process Performance Center (BPPC)